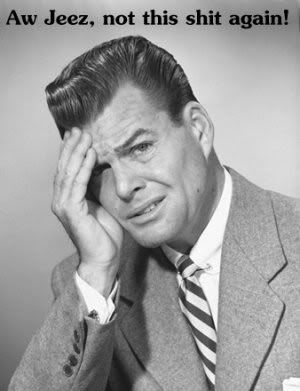 Just a couple week ago, there were reported rumors of Sam Seder's demise at Air America Radio. And now, there's more.

After the close of yesterday's show, LTR has been inundated with emails wondering if Seder is indeed getting the axe. It started with one I got from Nancy Cunningham of Dallas Air America, a grassroots group. She was listening to the show via the "SammyCam" (his live video webcast) and heard something that could one think that the end is indeed here.

So, in other words, Seder has been fired almost as many times as Al Franken has quit to run for the senate.

From poster "mo lib" on Seder's blog:

With the Sammy Cam still on I clearly heard Dan Pashman say they will make a promo on Monday saying this is the last week of the Sam Seder Show. This sucks!

Sam will do fine without AAR . He's smart and creative. It's a real loss for the rest of us.

I hope he can stay on the radio. Maybe with Nova M. This is really sad news.

Adding more fuel to the fire, Seder allegedly posted an anonymous comment about wrapping up the show next week (taking off Tuesday and Wednesday for Passover), and that he is negotiating with Air America brass for a Sunday show. He also said management prefers "less substance" for the late morning time slot. Nothing has been officially announced.

Following the "Sammy Cam" revelation , other blogs picked up on it, including Brilliant at Breakfast and Morning Seditionists. And I was flooded with emails and Myspace messages pointing to this. But, as I usually do, I held off on sharing it, as I'm often a bit hesitant to throw rumors like that out there. Not to toot my own horn, but LTR is read by many people, inside and outside the radio industry. Staffers at Air America read this blog, as do radio station personnel and even some hosts themselves. With that comes a feeling of responsibility and accountabilty. And screaming "the sky is falling" whenever a shoe drops is a credibility killer. On vague rumors such as this, I feel the best approach is to sit back and see what unfolds. And since there is nothing official, and speculation is rampant in this case, I would say that this could be considered a 'vague rumor'.

So, let's take a step back and look at the whole picture. Sam and company left the cam on. Dan Pashman, one of the show's producers, was overheard on a 'hot' mic that they're cutting a promo announcing the end of Seder's show, and that he was moving over to produce Laura Flanders' show. Seder himself is allegedly planning to wrap up his show. What is going on here?

Now, I'm not saying Pashman is full of beans, but considering this is the last show prior to April 1 (APRIL FOOL!) I guess you could call me a bit skeptical. Pretty good prank, methinks. And, while I did not hear the whole exchange, it does sound way too convenient to throw this out at the end of the show.

Besides, who does Air America have in line as a replacement?

Is it legit? Is it all a put-on? Or a misunderstanding? Who knows? All I know is this is a rumor. Until something more concrete and semi-official comes along, I'm not ready to scream, "the sky is falling." And I don't want to give complete credibilty to unconfirmed rumors. At least not yet. Check back next week.

Oh, and happy 3rd birthday to Air America Radio. Yeah, they're still around.